Heirloom Freeze Dried Floral Keepsakes
Preserve Your Florals is a trusted Freeze Dry Specialty Shop servicing clients all around the United States. Floral Freeze Drying is the most trusted method of preservation in the market today.
When you just can't throw those floral memories away, allow our artisans to preserve them thru our state of the art freeze-dry method and create for you an heirloom keepsake piece that you can pass down generation to generation.
We will work with you to develop a floral art display that will give you many, many years of treasured memories.
With the addition of Heirloom Flower Petal Jewelry and Cremation Jewelry for lost loved ones and pets, and Hierloom Candles using pressed flowers, we can create a one of a kind keepsake for any occasion in life.
Memories are precious and time is important in getting the best overall quality so call us today for an appointment to discuss your floral keepsake needs.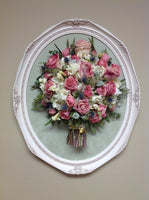 All Products based on Availability- No work will begin without signed Terms and Conditions along with Deposit